Here's a post I made on the now defunct AROnlike forum in 2009 regarding fixing this problem:
I've done this job recently. Thanks go to pete for the how to guide and technozen over on .org for his how-to on repairing the actual resistor pack in this thread:
http://forums.mg-rover.org/showthread.php?t=55979
For those who are interested here's a synopsis:
Rover used three coils of resistance wire in the resistor pack which look like this (the pack in the image is faulty):
The values for these coils are
1.5 ohm 10 watt
0.68 ohm 10 watt
0.27 ohm 10 watt
These are connected in series in stages to provide speeds one, two and three (Brian will probably be able to clarify) and get VERY, VERY HOT during use (if you want a demonstration, whack your blower on speed 3 and see the larger coil on the right glow bright red). They are cooled by being placed in the airflow for the heater blower, giving them at least some chance of survival.
On my 45, it was the central resistor that had failed, but due to the fact that both the centre and left resistors are used for speeds one and two, I lost both speeds, which was a pain.
My answer was to order up the following resistors from
http://www.cricklewoodelectronics.com/C
... hp?cat=251
2x 3.3 Ohm 10 watt
2x 1.5 Ohm 10 watt
2x 0.56 Ohm 10 Watt
The reason for ordering two of each was so that both resistors can be used in parallel (i.e. left "leg" one resistor soldered to the left leg of another resistor of the same value and the right soldered to the right) to create a resistor with twice the power rating (20 watt) but half the resistance, which worked out as:
1.65 ohm
0.75 ohm
0.28 ohm
Which are close enough to the original values specified by Rover. These were then soldered in to place following this diagram (again from .org)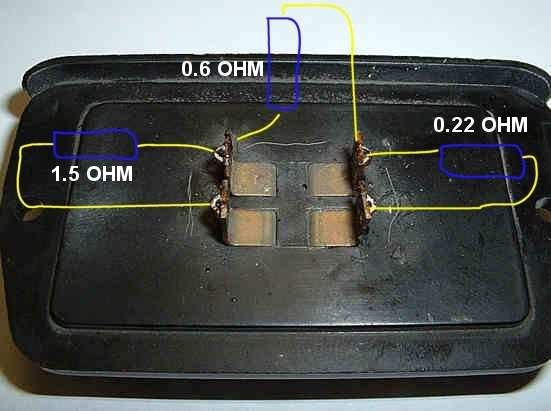 You'll need to do some jiggling about to keep the resistors within the"footprint" of the resistor pack but it is possible. I don't have any pics of my own repair because I thought that my soldering was unfit for public consumption, but it has worked fine for the past week. While using parallel resistors means you have to find space for twice as many resistors the fact that they are over-specced means that they should last longer than the original coils.
The same resistor packs are fitted to 200/25, 400/45 and MG F/TF IIRC.